Wetland Delineations
Wetlands are defined as areas that are inundated or saturated by surface or groundwater at a frequency and with a duration sufficient to support a prevalence of vegetation typically adapted for life in saturated soil conditions.
Wetlands typically include swamps, marshes, bogs, and similar areas.
ECI's WETLAND DETERMINATIONS OFFER PROPERTY OWNERS THE ASSURANCE OF A WETLAND DETERMINATION THAT IS BASED ON THE SPECIFIC WETLAND TYPES ON THEIR LAND.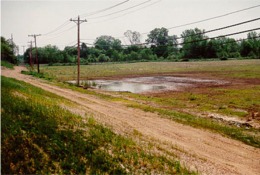 ECI uses the following general diagnostic environmental characteristics to identify Wetlands:
Vegetation - Consisting of macrophytes that are typically adapted to areas having hydrologic and soil conditions found in Wetlands


Soils - Classified as hydric, or possessing characteristics that are associated with reducing soil conditions


Hydrology - Areas inundated either permanently or periodically at mean water depths of equal to or less than 6.6ft or soils saturated to the surface at some time during the growing season of the prevalent vegetation.
Evidence of a minimum of one positive wetland indicator (vegetation, soil, and hydrology) must be found in order to make a positive wetland determination.
ECI
INTERPRETS THE TECHNICAL CRITERIA FOR VEGETATION, SOILS AND HYDROLOGY

DETERMINES THE DOMINANCE OF VEGETATION

IDENTIFIES BOTH SANDY AND NON-SANDY HYDRIC SOILS
Certified Wetland Determinations are recognized by USDA for the Food Security Act and by the US Army Corps of Engineers for Section 404 of the Clean Water Act.
ECI IS CERTIFIED BY THE STATE OF MICHIGAN
Contact ECI for your Wetland Determination

Phone: (248) 360-4063
Fax: (248) 360-4003

email: lstokes@ecienv.com